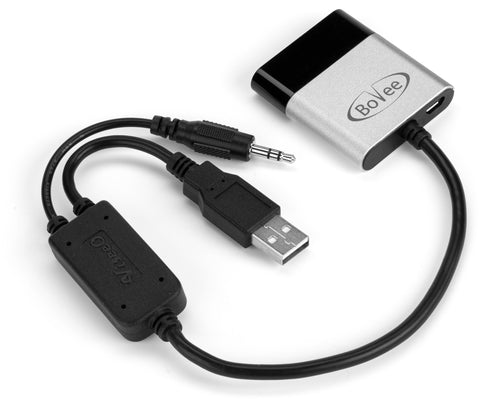 BMW 325i 2008 Bluetooth Music Interface Adaptor for in car iPod Integration WMA3000B (BMW USB/AUX-IN connector)
"Stop messing with cables and fumbling with your devices. Just enjoy the music, wirelessly stream, control, read and display your phone library using your cars Entertainment system from APPs, iPhone, or Android Devices"
The WMA3000B is a plug-and-play wireless Bluetooth music adapter designed for original Audi/BMW/Mercedes/VW factory fitted iPod kits as well as aftermarket in-car iPod integration. Advanced wireless music technology powered by high quality WIRELESSTOOTH technology enables it to flawlessly communicate with Apple iPhone, iPod and iPad. Instead of manually plugging the iPod into the connector every time you enter the car, you instead connect our device via the built in iPod integration cable.Streams music from Android, Apple, and Windows devices. For your BMW 325i 2008 or any BMW or Mini cooper with AUX/USB ipod integration
Provides Bluetooth music streaming to BMW cars
Control music from steering wheel
Connects to USB with Aux input under center armrest
Auto-connect when car is turned on
Once you are connected to the iPod cable and paired with your iPhone/iPod, every time you re-enter the vehicle the Bluetooth connection will be established automatically, meaning that your full music library will be instantly accessible on your in-car iPod interface, without having to remove the phone from your bag/pocket and manually plugging into the cable. This allows for a much more enjoyable in-car music experience as you can simply get in and drive, without the risk of leaving the iPhone/iPod in the car after the journey.
Features
Plug and Play no installation required
Connects iPhone/iPod and cars original iPod interface wirelessly using Bluetooth technology no need to manually plug iPod in every time
Automatic re-connection every time you enter the vehicle
Display your entire iPod music library on your original car screen from your iPhone, iPad or iPod Touch
Browse, skip and control music playback using original steering wheel and head unit controls
You can still use the original or aftermarket Bluetooth phone hands free in your car and simultaneously stay connected for music playback